Little Robin Redbreast sat upon a tree.
Up went Pussycat and down went he.
Down came Pussycat and away Robin ran.
Says Little Robin Redbreast,
"Catch me if you can!"
Little Robin Redbreast jumped upon a wall.
Pussycat jumped after him and almost got a fall.
Little Robin chirped and sang,
And what did pussy say?
Pussycat said, 'Meeow!' and Robin jumped away.
ROBIN
YN
Y
ROCED
MYND
RRRRRRRRRRRRRRRRRRRRRRRRRRRRRR
!
Today was the school concert so I took Beauty in to play her part as a robin and what did she do? She slept through the whole show.She is a star!
At the concert I managed to upset
a 'fur
coat and no k------s' type. I was sat in a little corner out of the way in a spot convenient to grab Beauty out of the concert if she had played up(as she slept through it it didn't really matter). Anyway, Mrs 'Fur Coat' comes up and stands straining her neck to see the show, trying to be helpful I tell her of a better viewing spot. If I did, she looked down her nose at me as if I were one of John Redwood's single mothers from St
Mellon's
(just substitute
Pentwyn
) and she said , 'I think I know. I am the deputy chairman of the Governors'. Yes, if she is a transvestite.......get her!She then flounced her wobbly butt to her reserved front row seat(only someone with a wobbly butt can mention
anothers
wobbly
butt) and I am the wobbly butt queen.
The raffle made over £1600, a little more than last year. this year our family won no prizes, never mind.
Here we have the first member of the WOODY
FAN CLUB
in her t shirt.
Woody.......Woody.....Woody!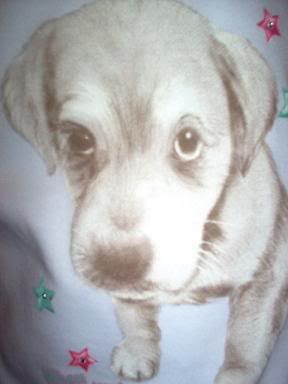 Woody Woody we love you
Even when you do a S--A Sue!
Hope the pup is ok Belle and eating and growing well.