I was shocked by this news report yesterday.
Man questioned over vicar's death
A man is being questioned after a vicar was found stabbed to death in the grounds of his south Wales church.Father Paul Bennett, 59, died at St Fagans Church in Trecynon, near Aberdare, Rhondda Cynon Taf.

The father-of-two and grandfather was found dead in the church grounds by his wife Georgina about 1450 GMT.

A 23-year-old local man was arrested at the scene on suspicion of murder and is being questioned. Police said they were not looking for anyone else.

The church grounds in Windsor Street in the middle of the village were sealed off with police standing guard at the gates and scenes of crime officers working throughout the night.
Officers said the vicar's family were "extremely distraught"
Perhaps I isolate myself too much, due to my disability caused by my arthritis I really do not go anywhere apart from my daughter's school, the supermarket and occasionally to drop my 21 year old at University. Perhaps I should get out more but after reading this I don't think that I want to. My Dad was brought up near to Aberdare and personal attachments to certain situations definitely causes greater impact. I just can't believe that some body would do something so pointless.
How do you go on writing after a story like that?
I also managed to re-load the printer(I will be scanning and emailing very soon Belle) and next on my things-to-do-list is re-load Skype(as per request Dimitri!).
Being me I did manage to watch a little TV last night but Beauty was again an early riser so I didn't watch very much and I went to bed early.
The girls were watching Pretty Women and I managed to see my favourite part, the bit where Julia Roberts goes back to the shop that refused to serve her and shows them all her shopping and says, 'Do you remember me, I came in yesterday and you refused to wait on me, you work on commission don't you? Big mistake'.
I did notice Fiona watching a little of
Anthea Turner's Perfect Housewife
, but it was a repeat so I didn't bother watching it. Anthea Turner's Perfect housewife is one of the funniest things on TV.
Does the idea of housework instantly make you reach for the remote control and a box of chocolates?
Forget Desperate Housewives, meet... the Perfect Housewife!
BBC Three's hugely successful series is back and looking for outgoing, funny and friendly women and men to take part.
If you'd like to spend a couple of days at Anthea's lovely home and get expert help to turn you from a 'hopeless housewife' into a 'domestic goddess' (or 'domestic god'!) then help is at hand!
If you are interested in taking part in this programme call
0117 970 7642 or alternatively, visit the Me on TV website and fill in an online form.
Would I take part in her show?

Not in a million lifetimes!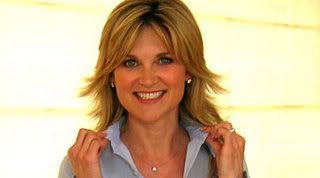 I still haven't figured out if Anthea is seriously mad or seriously sending herself up. I am seriously impressed though with what she can do with a lemon! Whatever is going on in her head though is compelling viewing. Whenever I see a house like Anthea's all I can think is that she has too much time on her hands, or a legion of cleaners! I love your program Anthea.
Remember what I said about Cardiff yesterday?
Time lord tourism boost for city
Science fiction TV series Doctor Who and Torchwood have pushed Cardiff into the top 10 short break UK destinations, according to a travel website.

The two shows, which are filmed all over south east Wales, attract fans keen to visit key locations.

Cardiff Council said the city was building a "tourism package" on the back of the success of the programmes.

Dale Who from Brighton, who started visiting Cardiff because of the series, said the city was "stunning".

In the case of Doctor Who, Cardiff often doubles as London and other cities. Torchwood is set in modern-day Cardiff.
And

A spokesman for Cardiff council said Doctor Who and Torchwood had helped to raise the profile of Cardiff.
He also said that visitors attracted by Doctor Who and Torchwood were finding that Cardiff had a lot more to offer for a short break.
So I am not the only one who likes Cardiff.
I like Dr Who and Torchwood as well.