I was brought up in the country, Rhoose in the Vale of Glamorgan to be precise. So why is it until recently I have never noticed birds singing at night? And boy are they noisy.
According to the RSPB a number of birds do sing at night, even in towns but remember I do live right on the edge of the city next to fields and farmland.
I read the following on the RSPB site
Which birds sing at night?

Nightingales, nightjars and corncrakes are known for their nocturnal singing during the spring and summer, but in winter they migrate to Africa. Other, more common birds such as song thrushes, dunnocks and, most regularly robins, can be heard singing at night all year round.


Night-time singing is usually stimulated by bright lights or sudden noise. The robin is the most commonly heard night-time
We are on the edge of the city but we have all the street lights and the added lights of the
dual-carriageway, perhaps the reason there is so much bird noise is because of the street lights and the sound and lights from the cars on the dual carriageway. I had to go to the garage around the corner at 5:30am this morning and I was surprised at the amount of bird noise and punters at the garage and from the garage you can look down the embankment and see a lot of traffic on the dual carriageway. Whatever the reason , they make a lot of noise at night.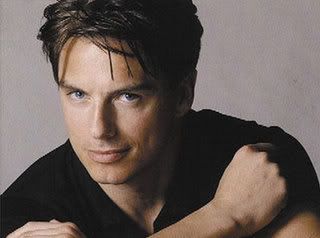 John Barrowman
said that he liked Cardiff because after about 7pm the place quietens down(apart from the birds!) and it is like living in the country. It is so true , I have lived in a number of other places and people so often say uncharitable things about Cardiff and I think 'Whoa, you are so wrong'.It is a capital city but it is compact enough for me to know where everything is and I can get to town or home from town at any time of the day in under 15 minutes. I remember when Cardiff was competing for city of culture against Bristol and other cities and a Bristol DJ said he could take losing against any other city but Cardiff and I was amazed that someone would say that. Bristol has a different atmosphere to Cardiff and you just cannot compare them. Anastasia worked in Clifton, Bristol when she first graduated from University so I am aware of what the city has to offer and it just wasn't for me. Bristol has an older industrial heritage to Cardiff and so Bristol has less of a small town feel. I guess that I will always be a country girl at heart.
Last night I watched 10 Things I Hate About You,AGAIN!
Heath Ledgers Singing of 'You're Just too Good To Be True' is definitely one of the highlights of the film, up there with Bianca being caught wearing the baby belly!
I love that film,the film is just like watching my girls in action.
SnoWhite and Fiona are so like Katarina and Bianca when they fight except Fiona isn't all 'Look at me, Look at me' and unlike Katatrina, SnoWhite has self-confessed CHAV tendencies.How terms change over the years, when Anastasia and Belle were younger a CHAV was called a TOWNIE. I remember watching Only Fools And Horses years ago when Del Boy started calling Rodney a WALLY, and it entered into everyday speech, now you don't often hear that term.
I can remember John McEnroe introducing the affectionate term Mother F........... into the English language at Wimbledom,it shocked a nation at the time but now it is just another piece of bad language that you hear on TV.Our sensibilities are definitely affected the more that we see and hear things which makes them no longer so much of a problem to our perception.
I also watched some of the documentary
Bodyshock.
At just seven years old Dzhambulat Khatokhov - Jambik for short - is four foot three inches tall and weighs 16 stone: as much as a baby elephant. He dwarfs his older brother who is twice his age and less than half his weight. But Jambik is a hero in his home town and an object of fascination in the West.
In Bodyshock: World's Biggest Boy, British
Doctor Ian Campbel
l travels to the far south of Russia to meet Jambik and his family and uncovers a more disturbing story than he originally imagined. Nobody knows why Jambik is so big, or what this means for his long-term health. But Dr Campbell - one of the world's leading experts on obesity - is determined to find out. Travelling over 2,000 miles to the Caucasus Mountains in Southern Russia, Campbell meets the "biggest boy in the world" to see what, if anything, can be done for his condition.
Gillian McKeith,
I think that Gillian has the ba**s to take on this woman before the child dies. Gillian, I take back anything I may have said in the past.