Well here I am at 4:41am blogging early! That's right, little Miss Sunshine has decided that because it is a Saturday morning then we all must be up bright and early. Well it is EARLY but I couldn't tell you if it is BRIGHT because it is still dark and it is really and truly too early for me to feel BRIGHT. When I was working as a nurse in a nursing home working nights there was definitely a time during the night when you felt particularly tired, before you got your second wind and that was roughly between 3am and 5:30am.
According to a report on the BBC health Website

Poor sleep clouds moral judgement
A couple of sleepless nights can cloud a person's moral judgement, study findings suggest.

Army researchers found soldiers struggled to make snap decisions in emotionally charged situations after being deprived of sleep for two nights.

The authors say this could be important for other professions, including doctors, who have broken sleep and need to make quick decisions in a crisis.

The US work is published in the latest edition of the journal Sleep.
Oh Well, what does that mean for me? I haven't had a decent night's sleep in over 7 years!
It is well established that poor sleep can impair many functions, including concentration and memory.Some people say they need as little as three hours of sleep in every 24 hours to feel rested, while others need 11 hours.Experts generally advise people get about eight hours of solid sleep per night to be on top form.Lead researcher Dr William Killgore, of the Walter Reed Army Institute of Research, stressed that the findings did not mean that sleep deprivation leads to a decline in "morality" or in the quality of moral beliefs."Our results simply suggest that when sleep deprived, individuals appear to be selectively slower in their deliberations about moral personal dilemmas relative to other types of dilemmas," he said.
Perhaps this explains my dreadful memory, I have been doing computer classes at my local community education centre for over 4 years and I am still having to ask the most basic of questions as I seem to forget what I have learnt from one lesson to the next. I take very strong painkillers for my
Dercum's
and my arthritis and I have always put my memory issues down to the medication.
So what does 7 years lack of sleep say about my morals?
Interesting thought.
On Thursday
SnoWhite
my 21 year old told me that she would not be home that night as she was going on a University trip and she wanted an early start(she has her own flat close to University). Yesterday Fiona asked where
SnoWhite
was and my reply was,' She could be in another country for all I know as she is on a Uni trip'.
SnoWhite
assumes that a lot of information that she has in her head is passed by thought transference. Sorry
SnoWhite
that doesn't often happen in real life. Well about 10pm I get a phone call ,'could I pick her up from Uni as they are back late from their day trip to Chelsea in London(the King's Road and all that!)'
So she was in another country.........England.
It sounds odd to think that you can go to another country for the day or to work
daily in
another country because you live so close. I visited Anastasia in
Geneva
in Switzerland a few years ago whilst she was visiting the family there and when I was in the airport you could either exit into France or Switzerland as it was so close.
CERN
which is the laboratory featured in
Dan Brown's
Angels and Demons
straddles the border between
France
and
Switzerland
, so you could spend your day working in two countries! Confusing thought...........does it mean that some people would need to carry their passport to go to the rest room or the canteen?
Did you read about what the Swiss army did recently?
Swiss Accidentally Invade Liechtenstein
ZURICH, SWITZERLAND — What began as a routine training exercise almost ended in an embarrassing diplomatic incident after a company of Swiss soldiers got lost at night and marched into neighboring Liechtenstein.According to Swiss daily

Blick

, the 170 infantry soldiers wandered just over a mile across an unmarked border into the tiny principality early Thursday before realizing their mistake and turning back.A spokesman for the Swiss army confirmed the story but said that there were unlikely to be any serious repercussions for the mistaken invasion.
"We've spoken to the authorities in Liechtenstein and it's not a problem," Daniel

Reist

told The Associated Press.
Officials in Liechtenstein also played down the incident.
Interior ministry spokesman Markus Amman said nobody in Liechtenstein had even noticed the soldiers, who were carrying assault rifles but no ammunition. "It's not like they stormed over here with attack helicopters or something," he said.
Liechtenstein, which has about 34,000 inhabitants and is slightly smaller than Washington DC, doesn't have an army.
I would rather read news stories like this than the usual gossip mongering that is out there.
Who thought that we as a nation were remotely interested in the way that
David Cameron
dressed his hair? Please!

Hair buzz as Cameron moves left
Tory leader David Cameron's decision to part his hair on the left has sparked a buzz of speculation from commentators.

Some argued the new look was an attempt to look more "butch", others that it was actually more feminine, or an effort to cover up a receding hairline.

Daily Mail

sketchwriter

Quentin

Letts

said it symbolised the direction in which Mr Cameron was taking his party.

But a spokesman said of Mr Cameron's change: "There is no political significance in his decision to do so."

Mr Letts told the BBC he thought Mr Cameron's wife Samantha probably had a hand in the decision."Blair's hair do has changed colour rather oddly once or twice but now Cameron seems to be changing direction - which is of course a very good metaphor for what he's doing with his party."
"You can be a little bit high-minded about this, but I think that's to ignore the very important element that image does play in the way people vote."
The report carries on .......
He added: "Unlike the last three Tory leaders he at least has the luxury of parting his hair. This is an improvement, arguably, in image terms.
"


Ouch girls , there is no need to get bitchy!
Well going back to David Cameron..........
David Cameron is growing on me(and no not like a fungus!). I have always proudly said that I have never voted Labour or Conservative but David Cameron definitely has been changing my opinion of the
Conservatives
. Tony Blair and the
Labour Party
(new Labour) are more conservative than the Conservative party and David Cameron and the Conservatives are more Liberal than the
Liberal party
! Did you all get that?
And the worst part is I think the reputation of the Liberal Party has plummeted for me after
MP

Lembit

Opik
dumped
Sian

Lloyd
for a
Cheeky Girl
. Another Oh Please!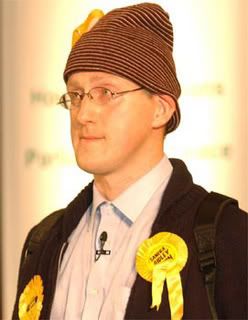 I really did respect the judgement of
Lembit
Opik
when he stood by
Charles Kennedy.
What can I say?
Helen Mirren's
portrayal of the Queen in the film
The Queen
. I have seen clips of the film and I am a lot more sympathetic to the Queen after what I have seen.I have always felt that the
Royal family
were not very sympathetic to
Princess Diana
and I felt that they used her and were not very nice to her. But real life is always more complicated! However I do not think any film would change my opinion of Charles and Camilla.
Well going back to SnoWhite and her trip to Chelsea in London( sorry about the diversion).
SnoWhite is doing an art/textiles degree and yesterday her and her course visited shops and fashion houses in Chelsea to check-out the shops and the way that these companies market themselves. SnoWhite was a little put out by the attitudes of the shop girls towards them. To put it bluntly the shop girls were not very pleasant to them, very similar to the shop assistants in Pretty Women. These fabric shops allow you to request a number of swatches and have them posted to you but the shop girls were not very co-operative and treated SnoWhite and her friends as if they were not good enough to be in 'their' shops. The lecturer took SnoWhite outside the shops and explained the situation. These shop girls work in a shop and that is their life whilst SnoWhite and her friends all work in shops part-time but are also studying for a degree and have plans for the future. SnoWhite is doing her degree, she works part-time, rents her own self- contained one bedroom flat and has also managed to save money in her deposit account. I think that these are pretty good achievements for a 21 year old who is on the autistic spectrum and she has done it all herself. Can these shop girls say that they have done the same?
These art/textile students are the young designers of the future..............don't shoot yourselves in the foot girls!