OH Hello! Here we have a proof that 'you can't wear a crucifix around your neck because of heath and safety' is a load of rubbish.
School row over girl's crucifix


A Roman Catholic schoolgirl's desire to wear a crucifix necklace has led to her religion clashing with her school's health and safety policy.
Look at the Robert Napier School
prospectus ,
the uniform includes a tie, so you can wear a tie around your neck but not a small chain! The school also says that in years 10 and 11 you can wear 'discreet jewellery', so why in years 10 and 11 but not in years 7,8 and 9? How are you safer when you are in years 10 and 11. So they are telling her that she cannot wear the chain NOW but when she enters the fourth year of high school she will be ok!
I personally would not wear religious symbols BUT I do believe in any individuals right to do so if that is what they wish.
I believe that central government, after consultation with religious leaders and members of the public,needs to make a decision as to what is acceptable to be worn within in schools, with regards to religion. For many religion is part of their every day life and this needs to be accepted and their needs met within the school environment. Everywhere you go you hear people talking about 'an holistic approach' but denying an individuals religious expression is hardly 'holistic'.
AND NOW TO MY SHALLOWER SIDE
Words fail me as to the departure of Leo Sayer on Celeb Big Brother, his behavior was worse than a toddler! Jermaine Jackson was gutted at his departure, Leo could have at least said goodbye properly to people who had been good to him and his language was shocking. And the papers are printing the story that Donnie wants to go back into the house.........look Donnie wasn't 15 minutes enough? Oh go on then, eek it out to 15 1/2 as you really were quite entertaining! I am also gutted that Dirk fancies Shilpa, Dirk is really quite cute(I am so sad, I sound like a teenager!).
HOW TO CHEER UP A CRYING SIX YEAR OLD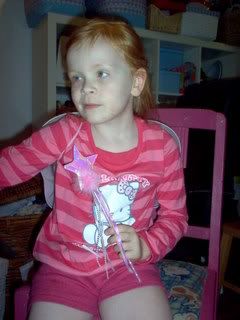 Just casually say Charlie and Lola and she instantly knows it is her computer time and will be at the computer faster than the speed of light.Whoosh.......she's there.
SnoWhite has been at the house over the weekend so computer time has been even more limited due to SnoWhite's need to do research for her ART Degree Project. Try explaining that to an autistic 6 year old who only talks in phrases such as-WELL DONE, I TOLD YOU TO LIE DOWN, THE END,ONCE UPON A TIME, SCHOOL,STOP IT, DON'T,THE CAR, ASDA (LOVES THAT WORD) etc.
It is so sad to watch Beauty cry when you say NO because she just does not understand and her face goes really blotchy with weeping. Autism is such a hard thing at times.
We also have a slide lock on the outside of the living room door, it is a split stable door with a glass window in it. When somebody is in with her(usually watching TV), and somebody is sat at the computer which is close to the door, we sometimes lock the door to keep Beauty in with the person in the living room( Beauty has no sense of danger and has to be watched 24/7). To get out the person in the living room has to knock on the door, now when Beauty knocks on the door she just doesn't understand why nobody opens the door for her.It is so sad to be so small and
not understand the world that you live in.
Things are getting worse with my left arm, I cannot even pick up a cup without it really hurting. The pain is constant so I think it is time for a return to the Doctor, I have become quite expert at one finger typing. It will probably be a week before I can get an appointment anyway and if the Doctor thought something was really wrong it could be 18 months before I was able to be seen in the hospital. The worst thing is I can no longer knit or crochet, I find it impossible to sit without doing something so I think I shall do some cross stitch and if I were to buy a large frame I could do it mostly with my right hand. And of course I haven't done any painting or collage or photography in a while so I need to start on those again.
BUT I have started writing again and I have completed a children's story and if I were to do some paintings to go with the story perhaps I could start selling some of my work. I have thought about using the skills learned in my web design class to create a web site to be a self-representing artist and sell my work online through places such as ebay W ell it is January and time for new beginnings, we shall see what happens!