Beauty went to sleep late and awoke early and when she got up she immediately wanted to watch Joseph on video! I am definitely going to have to sort out some new videos for her to watch, we have hundreds and we seem to be stuck on this one. I do like the Joseph video but I don't want to start feeling about Joseph the way that I feel about Barney. I remember as a child that children's TV was on for about half an hour or maybe even an hour in the morning and then from approximately 3:30pm in the afternoon until 6pm(I am talking about the early 60's!), too much TV may be a problem but not having it when you need it is also a problem. Beauty is very good at regulating herself and watches TV, plays on the computer, plays with her books and toys and plays in the garden. It must be a nightmare years ago when children would constantly ask 'WHAT SHALL I DO NOW'? I remember asking it myself. I am so grateful that Beauty can do all the things that she does because I know children with autism who cannot spontaneously play with toys or books or watch TV and their lives must be so limited. I remember working at Ely hospital in the late 70's and the lives of people with learning disabilities was so much more limited then. We have definitely made advancements for the better.
Yesterday evening(after watching Dr Who of course!) I took the girls to their father's house to drop off presents for father's day and whilst they were inside I took Beauty to get a McFlurry . I explained where we were going and what we were going to buy and she was so excited, bouncing and flapping and smiling and laughing that I am totally convinced that she knew where we were going.
It was Runningman's birthday on Saturday, he was 60 and we bought him a Jig Saw, a Sonic Screw Driver(well a battery operated one-if only sonic screw drivers really existed) and a trowel set for the garden. Remember he has retired once already( from the health authority) and now is working AGAIN(he loves work!) he intends to retire at 65 from the bank though I am sure he will work until 70 if the bank will let him!
Cleaning in the kitchen last night I realised that everything tells a story, even my dishes! Believe it or not.
My reflecting started when I was drying and putting away this plastic plate after Beauty had used it and I realised that it is the one that Anastasia mentioned a little while ago, the girls ate all their meals off plastic plates when they were younger because I had only one set of dishes and I couldn't afford to replace them if they got broken. I remember her saying how she remembered eating off plastic plates at 15!
This is a bowl from that BEST SET.
This is a mixing bowl that the girls bought me as a present. They bought it because I said that it reminded me of the bowls that we used in cooking lessons in the grammar school in the early 70's.
This mixing bowl I bought in the 80's, everything in my kitchen at the time was red(what was I thinking?), it is still used daily!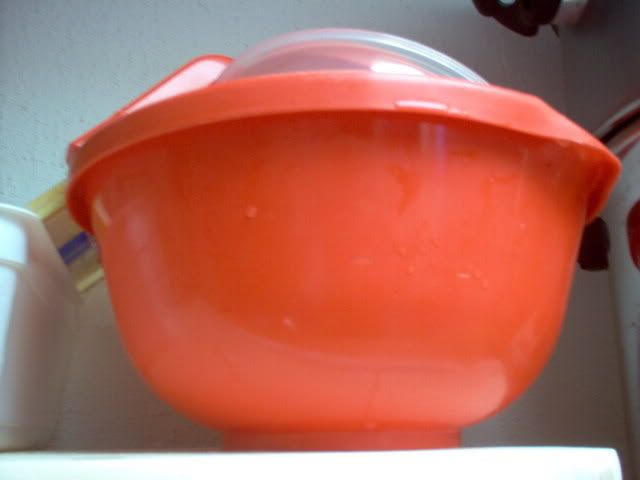 This Portmeirion pot I bought when I was first married to husband number 2, he has been dead almost 10 years.
A selection of mugs in my china cupboard, most came with Easter eggs inside.At Easter I used to buy the girls eggs and something they could keep, over the years I have bought T shirts, jewellery, soft toys and mugs
A dish from marriage number 3.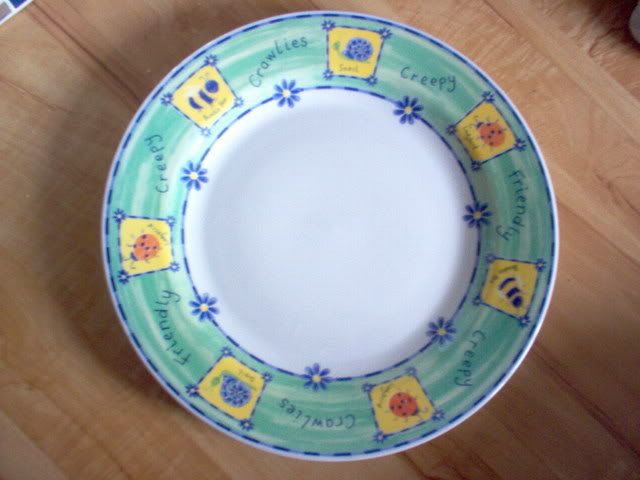 Latest acquisition, a brilliant bowl for cooking as you have a handle to hold onto whilst you are cooking.Bought in Dunhelms , my most favourite shop at the moment.
Beauty's Blue Cow plate.She loves
Blue Cow.
Beauty's Tweenies plate. Beauty loves
Jake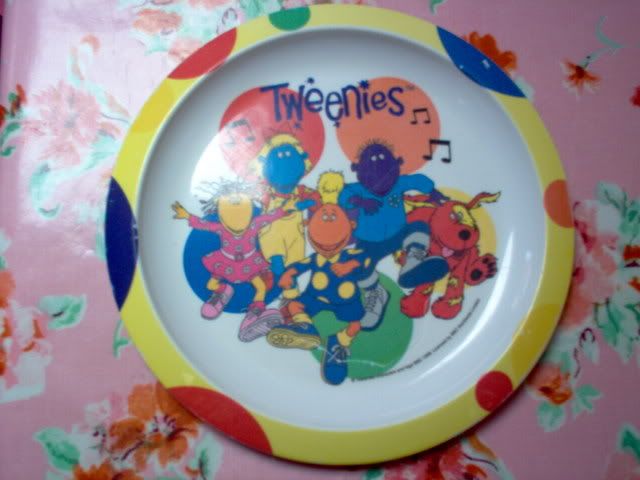 And of course an IKEA children's plate, we buy lots of thing in IKEA- the discount helps!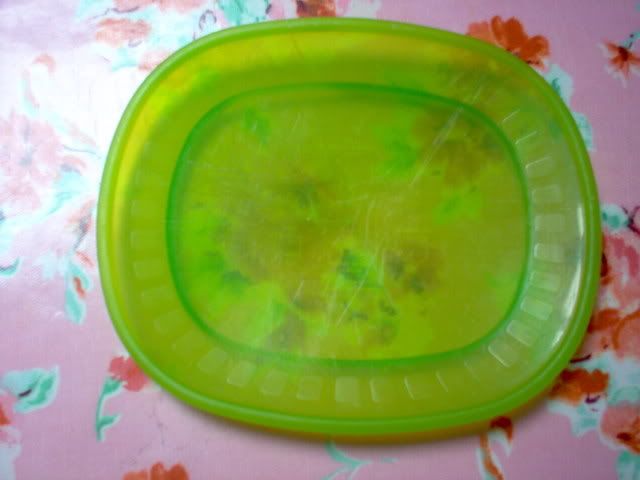 I know what you are all thinking, first the basket collection, now the dishes..........what next?
Did I ever tell you about the duvet cover collection? My airing cupboard is full of them, from Man United to Tweenies, from Dolphins to Noah's ark we have it, they mostly came as birthday or Christmas presents. I am looking forward to grand children so I can pass them on..........perhaps one day I shall make you all suffer seeing those. We shall see.