My 6 year old has one scary cough, she coughs like an elderly gentleman who has smoked way too much, and at the end of the cough is a hugely disgusting expectorating noise like Spit the dog(I dislike that dog!). But not as much as that bl**dy emu!
Spit
Emu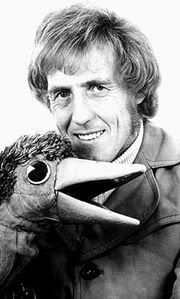 Emu is the thing of nightmares and should definitely stay in his box.
WE HAVE CURTAINS!
For many people having curtains is something that they take for granted but for the last 4 to 5 years our lounge has seen a succession of curtain rails.......all torn down by Beauty swinging on them! So we have had throws, bed covers , sheets and for the longest time a pink sari covering our lounge window and all held up just by being tied to hooks. But now we are trying a curtain rail again(but still suspended by the hooks) to see how Beauty reacts to them, she seems to have lost interest in the window. When Beauty was diagnosed with autism there was no mention of house trashing which seems to affect a lot of autistic children!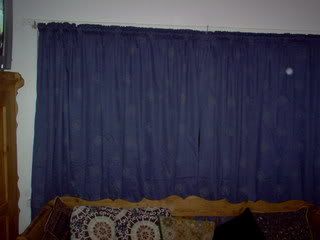 These are Beauty's bedroom curtains! Yes I know that they are bright but I bought them on sale when Fiona was little for her bedroom and she loved them. They were designed and made in Australia and so have an aboriginal theme.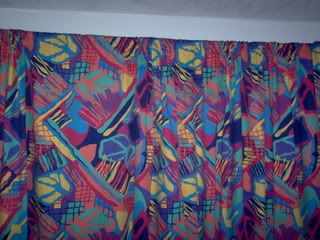 Beauty also ripped the radiator off the living room wall(thankfully she doesn't do that anymore!)
flooded the expensive cream berber carpet(what was I thinking buying that?) and so we replaced it with wood flooring which is a wonderful thing to have when you have a a child on the autistic spectrum, so much to easier to keep clean!
Terence Conran
once said that it was better to decorate you house in whites and creams so you could see the dirt and clean it. It maybe a good idea if you can afford to pay a legion of cleaners but I'm afraid it is not such a good idea when you have a child on the autistic spectrum who will only drink blackcurrant and apple squash and loves to 'decorate'(artistically pour all around the room) their world with it. My answer is to cover all the furniture in throws and wash them constantly. My washing machine is very hardworking(eco-wash of course!).
I AM INSPIRED
Mid blog creation I decided to have my breakfast so I went to the fridge to find some yoghurt.
I decided on Weight Watchers fromage frais with forest fruits. However, I made the mistake of passing the sink to get a teaspoon and I found the sink overflowing..........can anyone explain why my sink should be overflowing but the dishwasher empty? That one always confuses me!
So I filled the dishwasher and turned it on. I also emptied the tumble dryer and folded the clothes, sorted out clean clothes for Beauty to wear, re-filled the tumble dryer and turned it on and filled and turned on the washing machine(remember all eco-washes). None of these tasks were too arduous so I have decided that for Mother's Day (they are already asking me what I want) I shall ask for the day off housework! I shall also ask that my off spring also DO THE WORK that I am not doing so that the next day I do not have to do twice as much work.
PLEASE.
Well, here's hoping!